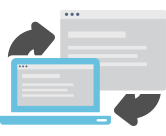 Improved Collaboration
When you share data with clients in the cloud, you get fewer mistakes and better collaboration.
Ditch The Desk
With access anywhere and anytime, the world isn't just your oyster; it's also your office.

Uncover More Insights
With up to date, reliable data, you can discover and harness powerful business insights.